When cooking at least 100 serves of granola, I have come up with the very best recipe and here it is! The best part is that it ONLY takes 10 min to prepare. Enjoy with a classic Greek-yoghurt-bowl with fresh berries & honey or with a super-smoothie-bowl! Me <3 Granola! 
Ingredients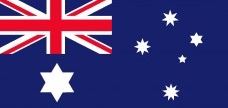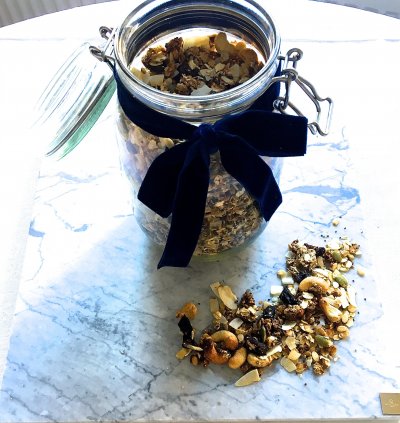 5 dl oat grain/buckwheat grain
4 dl coconut flakes
3 dl pumpkinseeds/sunflower seeds/ melon seeds
1 dl chia seeds
3 dl nuts (walnuts/almonds/hazelnuts/pecan nuts, macadamian nuts)
1 dl dried berries/fruit* (goji /blueberry /cranberry/ figs/ apricots (organic)/ plum/ raisins)  
1/2 dl cold-pressed coconut fat
1/2 dl water 
½ dl honey
1 msk cinnamon
½ msk cardamom
½ tsk sea salt flakes
½ tsk vanilla seeds (organic/quality)
Preheat the oven to 175 degrees
Heat the coconut oil together with honey, water, cinnamon, cardamom, sea salt and the vanilla seeds.
Place all the dried ingredients in a big bowl (apart from the coconut flakes and the dried berries/fruit.) 
Add the coconut liquid into the bowl.
Pour the granola into a plate and bake for 25 min (in the middle of the oven). Keep an eye so it won't get burnt.
Allow the granola to cool slightly and add thereafter the dried berries/fruit and the coconut flakes. Keep on the plate for another 1-2 hours so it will become crunchy. 
* If you would like more sweetness add another 1 dl of dried fruit. 
Ingredienser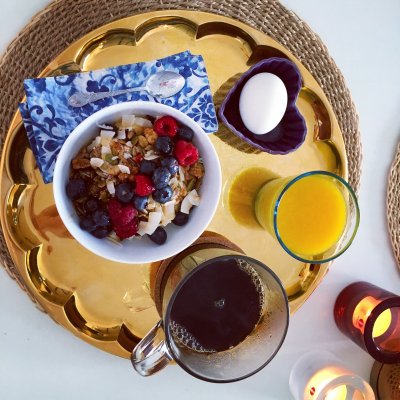 5 dl havregryn
4 dl kokos flakes
3 dl frön (Ex: pumpakärnor/ solroskärnor/ melonkärnor  
1 dl chiafrön 
3 dl nötter (Ex: valnötter, mandlar, hasselnötter, pekannötter, macadamia nötter) 
1 dl torkade bär/frukt* (Ex: gojibär/ blåbär/ tranbär/ fikon/ aprikoser/ plommon/ russin)  
1/2 dl kallpressad kokosfett
1/2 dl vatten 
½ dl honung
1 msk kanel
½ msk kardemumma
½ tsk havssalt
½ tsk vaniljfrön 
Sätt ugnen på 175 grader
Smält kokosfettet tillsammans med honung, vatten, kanel, kardemumma, salt och vaniljfröna.  
Häll alla torkade ingredienser i en stor skål (förutom kokos flakes och de torkade bären/frukten, dessa tillsätts på slutet)
Häll i kokosvätskan i skålen. 
Häll granolan på en plåt och grädda i 25 min (i mitten av ugnen). Håll utkik så  att det inte blir bränt! 
Låt granolan svalna lite grann och addera sedan de torkade bären/frukten och kokosflakes. Låt svalna på plåten i ytterligare 1-2 timmar så det blir crunchy. 
* Om du vill ha granolan sötare, tillsätt ytterligare 1 dl torkade bär/frukt.