Ingredients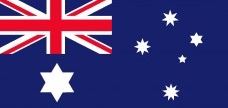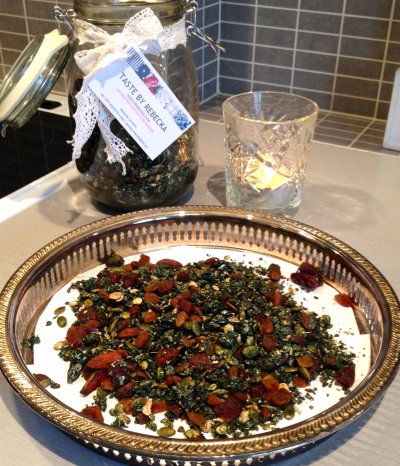 5 dl oat grain/buckwheat grain
4 dl coconut flakes
3 dl pumpkinseeds/sunflower seeds/ melon seeds
3 dl nuts (walnuts/almonds/hazelnuts/pecan nuts, macadamian nuts)
1 dl dried berries/fruit* (goji /blueberry /cranberry/ figs/ apricots (organic)/ plum/ raisins)  
Green as in Greens: 
2 msk spirulina powder
½ dl H20
1/2 dl cold-pressed coconut fat
2 msk honey
1 msk cinnamon
½ msk cardamom
½ tsk sea salt flakes
½ tsk vanilla seeds (organic/quality)
Preheat the oven to 175 degrees
Place all the dried ingredients on a plate (apart from the coconut flakes and the dried berries/fruit.) 
Bake the plate for 15 min (in the middle of the oven). 
Meantime, blend the spirulina liquid in a small bowl. 
Allow the granola to cool slightly after 15 min and add the coconuts flakes and the spirulina liquid and "blend/massage" carefully.
Bake for another 40 min in 90 degrees (in the lowest of the oven). 
Add thereafter the dried berries/fruit and keep on the plate for another 1-2 hours so it will become crunchy. 
* If you would like more sweetness add another 1 dl of dried fruit. 
Ingredienser 

5 dl havregryn
4 dl kokos flakes
3 dl frön (Ex: pumpakärnor/ solroskärnor/ melonkärnor  
1 dl chiafrön 
3 dl nötter (Ex: valnötter, mandlar, hasselnötter, pekannötter, macadamia nötter) 
1 dl torkade bär/frukt* (Ex: gojibär/ blåbär/ tranbär/ fikon/ aprikoser/ plommon/ russin)  
Green as in Greens: 
2 msk spirulina pulver
½ dl H20
1/2 dl kallpressat kokosfett
2 msk honung 
1 msk kanel
½ msk kardemumma
½ tsk havssalt 
½ tsk vaniljfrön
Sätt ugnen på 175 grader
Häll alla torkade ingredienser på en stor plåt. (förutom kokos flakes och de torkade bären/frukten)
Rosta på plåten i 15 min (i mitten av ugnen)
Blanda spirulina vätskan under tiden i en liten skål. 
Låt grynen svalna en aningen, tillsätt kokosflakes och blanda/ massera sedan noggrannt. 
Sänk värmen till 90 grader och rosta i ytterligare i 40 min (i nedre delen av ugnen). 
Addera de torkade bären/frukten och låt torka på plåten i ytterligare 1-2 timmar så det blir crunchy. 
* Om du vill ha granolan sötare, tillsätt ytterligare 1 dl torkade bär/frukt. 
Servera sedan granolan med turkisk yoghurt och bär eller varför inte toppa en avokado-spenat smoothie? Good Morning!